Rhodesian Ridgeback Rescue
---
Several adult male and female rescue Rhodesian Ridgebacks
are looking for nice new homes in South Africa.
For more information please contact

Liz Penprase 082-8032178 or via e-mail liz@rhodesianridgeback.org.za
---

There are unforeseeable reasons or circumstances in life
in which even Rhodesian Ridgeback owners can't keep
their dogs anymore.

For such emergencies there is the initiative
"Rhodesian Ridgeback Rescue".

If you should have the problem to keep your Rhodesian Ridgeback or if you
are interested in a rescue dog, please contact me or visit the following websites:
for South Africa: Liz Penprase, e-mail liz@rhodesianridgeback.org.za
for Germany: www.ridgeback-in-not.de

for USA: www.ridgebackrescue.org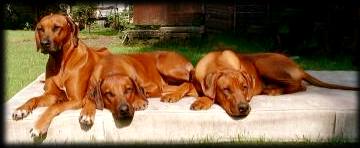 ---
Copyright © 2008 Anke van Wyk. All rights reserved.